+ Vacas Valley
+ Upper Guanacos
+ Plaza Argentina
+ Camp 1 & 2 on Polish Route
+ Traverse to Normal Route
+ Aconcagua Summit
+ Descent via Normal Route
The opportunity to visit the Aconcagua on one of its most beautiful and less visited faces.
Aconcagua 360 Route
In order to enjoy a pleasant vacation, there is no other amazing alternative than the Aconcagua 360 Route. This is simply an amazing and beautiful expedition one can think of. The climb expresses its most adventurous face for as it enlightens you with every step you take following the trail.
We approach you for the Mount trekking across the Vacas Valley up to the Plaza Argentina base camp. After that, we will follow the Polish route towards the Glacier until we reach altitude Camp 2. Mendoza is a province that enchants tourists not only from Argentina but from all around the body. We will traverse around the Glacier that is also known as the mythic base of the Polish Glacier to cross the Normal Route. There's nothing more adventurous than setting up a camp at Camp Berlin or Cholera thus accomplishing the first goal of this Aconcagua Expedition that is meeting Aconcagua's Two Faces.
From this last latitude camp of the Normal Route we will attempt the Summit of the Aconcagua 360 Route. The descent will take us to the famous Plaza de Mulas base camp following the normal route.
This great Aconcagua 360 Route expedition is meant for mountain lovers and operated by the best Aconcagua company. The capital city, Mendoza has many fine hotels like the executive hotels for tourists. All of these hotels are close to the most interesting areas of that town.
Mendoza's snow tracks are not only for the professional skiers and the lovers of extreme sports, but also for the entire family. Everyone can enjoy snow. There is another attraction on this trek. Mendoza is not the only snow in winter, there are other touristic spots that also compete some offers just like this city.
Why this
Aconcagua expedition?
Check this expedition highlights.
Includes porters for common gear to altitude camps. Most of the groupal gear (tents, kitchen sets, stoves, ropes and the garbage produced for the group) will be carry to altitude camps for a team of porters.
You will go to both basecamps in Mount Aconcagua: Plaza Argentina in the Vacas Valley Route and Plaza de Mulas in the Normal Route.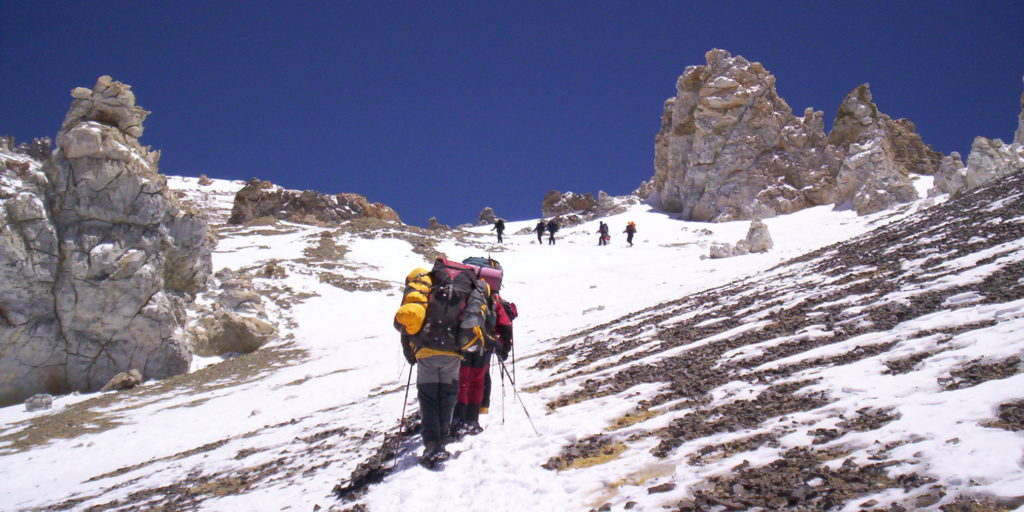 You will visit one of the most beautiful and less visited faces of Mt. Aconcagua.
This expedition and more variants can be taken in private way
Multiple routes are available if you hire a private expedition. This means that you can choose your group and the departure date. If you are interested, please ask us about all our private expeditions.
Discover everything